Volunteers Week: Gwen, Mary and Adrian's Volunteer Stories
Volunteers Week 2021
1st – 6th June marks Volunteers Week 2021! We would like to take the opportunity to recognise the fantastic contribution volunteers make to our communities and say thank you to our wonderful volunteers who support us in supporting the mental health of the BaNES community. 
After an exceptionally challenging year, volunteers from all walks of life have taken the time to dedicate to volunteering and have made, and continue to make, a huge difference to the community. Volunteers' Week is a time for us to say thank you to all Bath Mind volunteers for playing an integral role in our response to the pandemic.
As part of our thanks, we would like to amplify our volunteer's voices: below you can see three stories from three fantastic Bath Mind volunteers, Adrian, Gwen and Mary. Read on to find out more about their volunteer journeys! 
Gwen's Story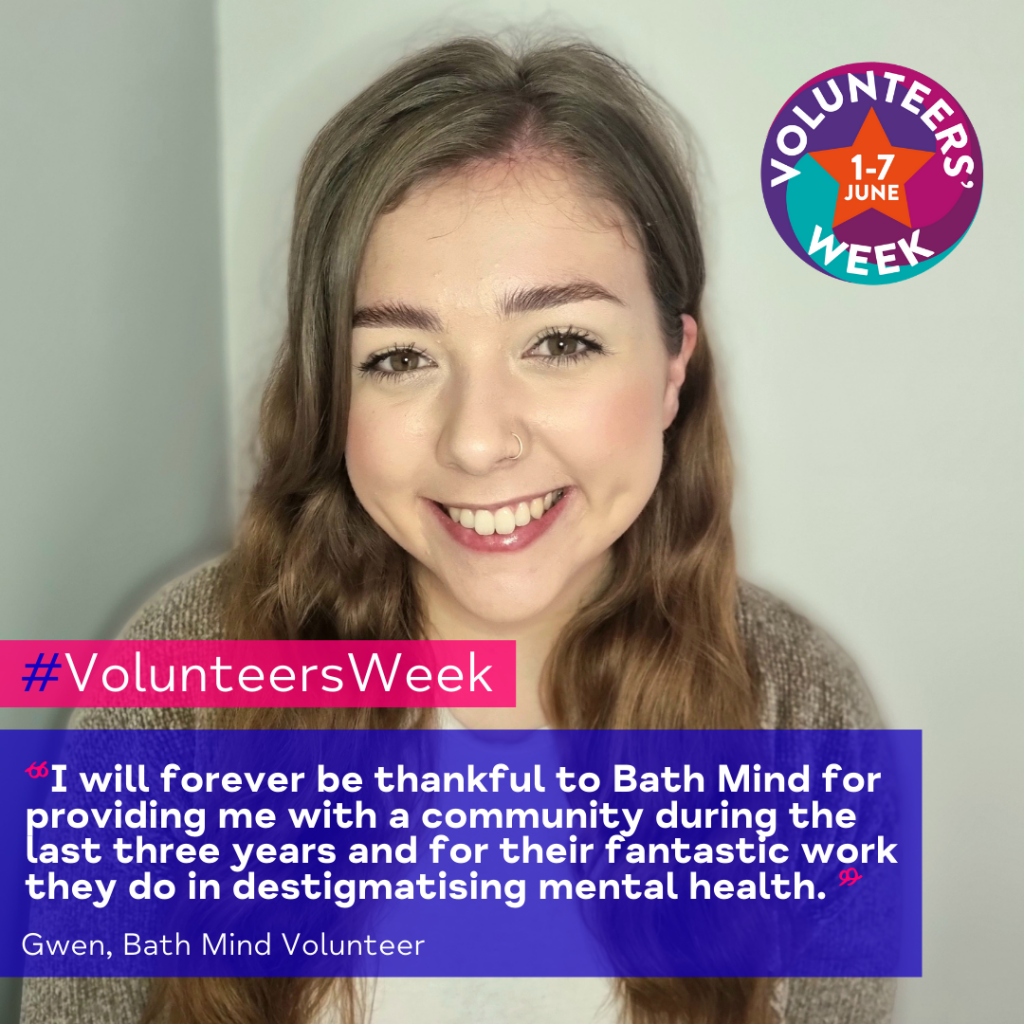 'I started volunteering for Bath Mind in January, shortly after beginning my studies at Bath Spa University. When I was furloughed from my previous job in 2020, I utilised the space of a Bath Mind support group for Bath Spa.
It was there that Max Webster suggested I apply for a Bank Support Worker at the Wellbeing House – I did not think I was in any way capable of officially supporting individuals with their mental health. I have since joined the Intensive Outreach Service as a Support Worker and I absolutely love it. I am now at the end of my degree and I work alongside a fantastic team who have helped me grow my confidence and develop my career.
I will forever be thankful to Bath Mind for providing me with a community during the last three years and for their fantastic work they do in destigmatising mental health. I feel supported in the workplace at all times and that is just invaluable, I know that I can go to my manager Laura Rawlings about absolutely anything.'
Adrian's Story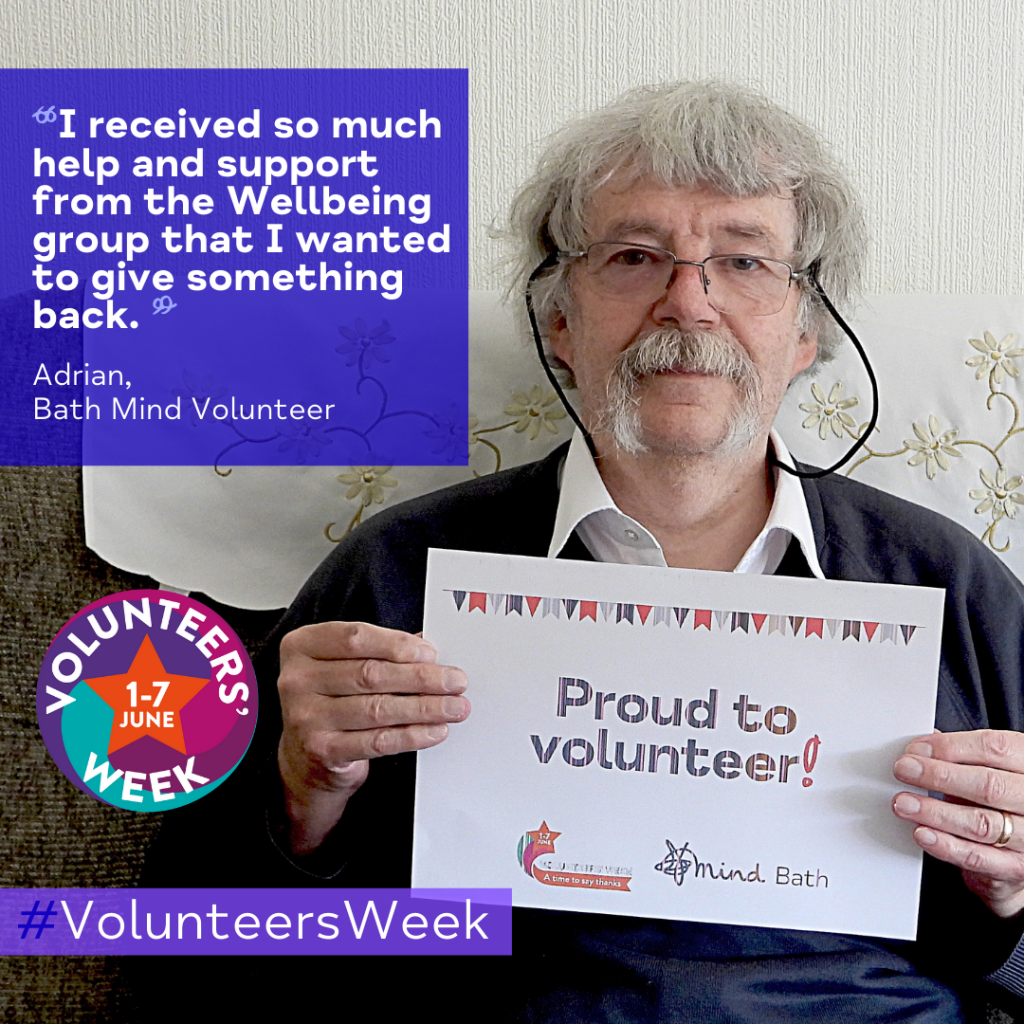 'I first came to Bath Mind around four years ago as a service user.
I received so much help and support from the Wellbeing group that
I wanted to give some thing back. For the last three years I have been a volunteer with the Bath Mind Family.'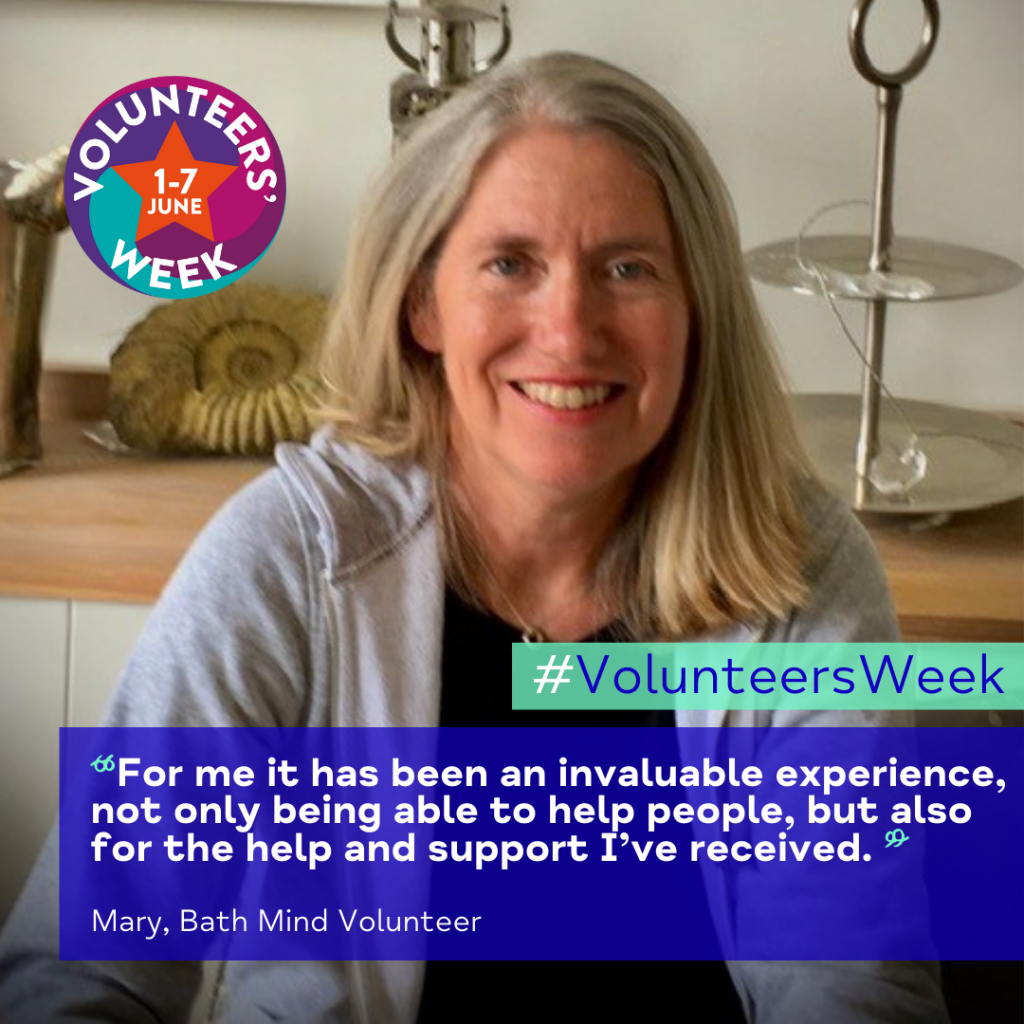 'I have been a volunteer with Bath Mind since the pandemic started in March 2020. I have been part of the Wellbeing Team where my role has involved making weekly calls to people in the community. The calls were set up to mainly to support people who were experiencing times of loneliness and isolation, as well as bereavement.
My calls not only offered a listening ear, but at times reassurance and encouragement to look forward to a more fulfilling life, coming out of lockdown. I knew my calls were appreciated, and it was a privilege to give some of my own time to make a difference in someone else's life. I have had some lovely conversations which I will always remember.
For me it has been an invaluable experience, not only being able to help people, but also for the help and support I've received. I have been part of such a wonderful team of people who have included me in zoom meetings, training courses and made sure that I'm okay as well!
I am now fortunate to begin my counselling placement with Bath Mind and am excited to continue my journey with this incredible charity.
My life so far has included a range of jobs and opportunities, but I have found the jobs where I am helping people to be the most satisfying, such as when I worked in Dubai teaching English as a foreign language. It was the moments after the lesson when a student would want to share a concern or worry about their life; where they just wanted to talk to someone who would listen. This extra time made a difference, and it's what I enjoyed the most.
Running my Airbnb in Bath was another wonderful experience and gave me great satisfaction. Interacting with my guests, offering suggestions of where to visit in Bath, and providing a comfortable place to stay was fun!
I know the importance of family and friends and having someone who you can go to. I also realise this is not the same for everyone, and sometimes it helps to talk to someone who you are not connected to. From personal experience, I know how important it is to have someone to talk to when someone has died, and also how crucial it is to be there for young people facing challenging times in their lives.'
A huge thank you to Gwen, Mary and Adrian for your continued support in volunteering for us at Bath Mind. Your work is vital in supporting and nurturing the community's mental health – we couldn't do it without you! #VolunteersWeek
Posted on: 2nd June 2021

back to news
0
Your cart is empty.