We can't make Christmas perfect, but we can make it better.
Your gift could help us be there for someone who needs us this Christmas.
Mental illness, loneliness and worry do not pause for Christmas.
But neither do we.
We'll be here across the Christmas period providing professional support. Support Bath Mind today, and we'll make sure your donation makes a difference to the mental health and wellbeing of our community.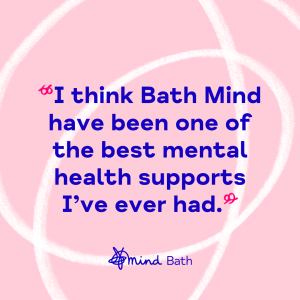 I literally couldn't breathe when I called tonight… I believe you have saved my life this evening.
What difference can your donation make?
£5
can help to ensure our online Christmas wellbeing tips and activities are available for all, 24/7 this Christmas.
Over 37, 855 people accessed our website from April 2022-23.
£10
could help our befriending team provide regular check in calls to individuals dealing with isolation and loneliness.
We made over 4,040 befriending calls from April 2022-23.
£25
could pay for someone's visit or call to our evening crisis support hub.
We supported over 2,490 visits to our crisis hub from April 2022-23.
£80
could pay for 2 sessions of 1:1 counselling for an individual needing access to affordable talking therapies.
We delivered 1,534 sessions of 1:1 counselling from April 2022-23.
How to access support this Christmas: