Bath Mind now delivering Mental Health First Aid Aware Training
Join us for Mental Health Awareness Week, where we'll be delivering the accredited online MHFA Aware course!
What is MHFA Aware training?
The four hour Mental Health First Aid Aware course raises awareness of mental health, covering what mental health is, common mental health conditions and how to support someone who may be experiencing a mental health problem. The course will empower you with the skills to look after yourself whilst helping others. The course is also a great shorter alternative to the full Mental Health First Aid course.
This course will be delivered via Zoom with an experienced instructor, where learning will take place through presentations, group discussion and workshop activities. The course is open and applicable to all: whether you'd like to join for professional or personal reasons. 
Course Cost: £127 per person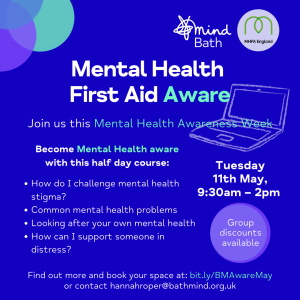 The course will cover:
What mental health is and how to challenge stigma
A basic knowledge of some common mental health issues
An introduction to looking after your own mental health and maintaining wellbeing
Confidence to support someone in distress or who may be experiencing a mental health issues
Training Takeaways
Everyone who completes the course gets:
A certificate of attendance to say you are Mental Health Aware
A manual to refer to whenever you need it
A workbook including a helpful toolkit to support your own mental health
If you have any queries on booking your space, please contact Hannah at [email protected].
Posted on: 29th April 2021