New September Mental Health First Aid Dates!
We are running the popular and accredited Mental Health First Aid online in September!
The online, accredited course qualifies you as a Mental Health First Aider, giving you:
An in-depth understanding of mental health and the factors that can affect wellbeing
Practical skills to spot the triggers and signs of mental health issues
Confidence to step in, reassure and support a person in distress
Knowledge to help someone recover their health by guiding them to further support – whether that's self-help resources, through their employer, the NHS, or a mix
For more information about the Mental Health First Aid course, please see our Online Mental Health First Aid Brochure. 
New September 2021 Dates: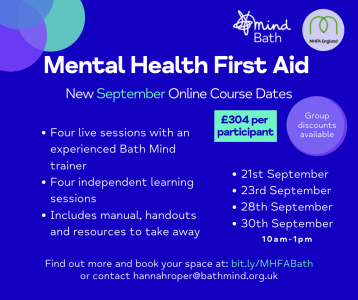 The online MHFA is broken down into 4 live sessions with independent learning. Please see below our dates for September:
Session 1 – Tuesday 21st September 10am-1pm
Session 2 – Thursday 23rd September 10am-1pm
Session 3 – Tuesday 28th September 10am-1pm
Session 4 – Thursday 30th September 10am-1pm
Please note you must attend all 4 live sessions to qualify as a Mental Health First Aider.
Cost: £304 per person, including all learning materials and access to online training dashboard. Group, education and third sector discounts are available – please contact Hannah (details below) for more information.
Whether you are interested in training as an individual, or in booking training for your organisation, you can contact Hannah Roper to discuss: [email protected] or 07943 496835
Please find here our entire Online Wellbeing in the Workplace training offer.
Posted on: 12th July 2021