In light of recent government response to coronavirus (COVID-19), we here at Bath Mind want to support you through what for most, will be a difficult time for their mental health and wellbeing. 
With many of us self-isolating and social distancing, we appreciate that some may find this particularly difficult or stressful. But there are lots of things you can try that could help your wellbeing. 
This information is to help you cope if:
you're feeling anxious or worried about coronavirus
you're staying at home or avoiding public places as part of social distancing
you have to self-isolate
Need support?
You can access the Compassionate Community B&NES support line by calling 0300 247 0050
Find out more about Compassionate Community B&NES here.
Our new Breathing Space evening line is also available to call if you are in need of support specifically with reagrds your mental health. 
Call 01225 983130 from 5:30pm-11:30pm, open every evening of the year. 
How can you keep mentally well?
Take a look at the headings below for tips relevant for you. 
Manage your Immediate Environment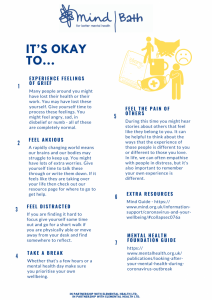 If you are spending a lot of time at home, you may find it helpful to keep things clean and tidy
If you live with other people, decide together how you'll use different spaces. You could discuss what each person needs to feel comfortable, and make some new 'house rules' that help everyone feel more at ease and understanding. These certainly do not have to be strict rules, why not have some fun with it with your house/flatmates! 
Cleaning your house, doing laundry and washing yourself are important ways to help stop germs spreading, and can help with feeling more in control of your personal situation. 
If you're feeling claustrophobic at all, pull up blinds and open windows as best as you can. it's important to still benefit from fresh air, even thought you're indoors more than usual. 
Physical Activity 
The government has allowed one form of outdoor exercise a day, why not use it! Exercise can be anything that gets your body moving and heart rate up, like walking, jogging, running, cycling and more. If you're looking for some guidance, we've put some of our favourites below: 
Supporting Wellbeing at Home: A simple PDF from Mind on small ways to keep active, and the 5 ways to wellbeing.
#StayInWorkOut: Tips, advice and guidance on how to keep or get active in and around your home from Sport England. Join the movement and use #StayInWorkOut to share how you're getting active during this time.
Active 10: The Active 10 app is a great way to help you monitor and gradually increase your brisk walking over time.
NHS 10 minute workouts: Only got a few minutes? The 10-minute workout ideas are perfect if you've only got a bit of spare time when you're at home.
Joe Wicks P.E Lessons: Looking for something to do with the kids? Joe Wicks has done some fantastic youtube P.E lessons for all. 
Couch to 5k: This is a 9-week running programme designed for complete beginners by the NHS. Many of our Bath Mind staff have used this successfully, so we'd highly recommend! 
Parasport: Parasport have created accessible home workouts that ideal for wheelchair users and those just getting started or haven't been active for a while.
Yoga with Adriene: Yoga instructor Adriene offers hundreds of free YouTube videos guiding you through different practices. From complete beginner sessions to 30 day challenges, you can find yoga for all levels here.
Keeping a routine
Maintaining a daily/weekly routine for your mental health and wellbeing is vital. With daily life altered due to social distancing and staying at home, it's likely that your usual routine has been completely disrupted. Create a new routine for yourself and other's in your home, particularly if you are at home with children. 
A routine does not need to mean a strict timetable of productivity, it simply means you have a structured plan for the day, that allows you to plan ahead and feel slightly more in control of your wellbeing. Create a new daily or weekly routine that prioritise looking after yourself, including a variety of things you enjoy and techniques to keep mentally well. A routine could include:
Reading
Watching a film/tv show
Mapping out your working day if you are working from home
Meditation and/or exercise
Rest and relaxation!
Working from home
Whilst many of us are now based at home, or working in different circumstances, it's vital to look after our own mental health and wellbeing whilst working. 
Take a look at Bath Mind and Elemental Health's top work from home strategies.
Additional resources:
Coronavirus (COVID-19): advice for employers and employees, ACAS
Keeping mentally well whilst working through COVID-19 pandemic, Mental Health Foundation
If you are on medication…
Keep taking your medication as planned, and ensure you know when you need to order any repeat prescriptions. 
You might be able to order repeat prescriptions by phone. Or you may be able to do this online using an app or website, if your doctor's surgery offers this. You could download the free NHS App and search for your surgery.
Ask your pharmacy about getting your medication delivered, or ask someone else to collect it for you. Make sure anyone collecting medication knows if they have to pay for it. 
Be careful about buying medication online. You should only buy from registered pharmacies. 
Supporting others in your household
If you're living with others in your household, you may need to support them as well as yourselves. For many families, this can be an extremely worrying time for both parents and children alike, with their usual routines disrupted. 
Looking for ways to talk to your child about Coronavirus? Young Minds have some great tips. 
Need some guidance as a carer? Carers UK has information on providing care for someone who is staying at home, what to do if you start to have symptoms of coronavirus, and making a plan for your caring responsibilities in case you become ill.
Additional Information and Support
Print Resources 
Interactive Resources 
NHS Resources
Last updated on 29th June 2020 using the most up to date information available. This page will be regularly updated by Bath Mind to keep in line with new and changing guidance. 
Our Supporters