Vote for Bath Mind in the My Favourite Voucher Codes Poll!
Bath Mind are taking part in My Favourite Voucher Code's August Charity Poll, which gives us a chance to win 20% of the organisation's profits for that month – a fantastic opportunity for us to raise funds to continue our vital Mental Health services through the pandemic and beyond.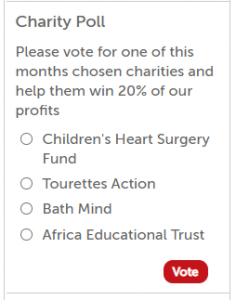 My Favourite Voucher Codes is a Bath based company that helps users to save money when they shop online, while also raising money for charity. 
Every month My Favourite Voucher Codes hosts a charity poll, where three organisations compete to win 20% of their profits for that month, and since they launched in 2012 they have donated over £62,100 to over 100 different charities. Every time a purchase is made through the site, they make a small commission which forms the charity donation.
The charity voters do not have to make a purchase to take part, however any purchases they do make will go towards the donation you're up for winning. The site offers voucher codes from thousands of the UK's most popular brands including Argos, Amazon, Debenhams and more, so there's plenty of opportunities to save money!
Visitors to the website can vote for their chosen charity completely free of charge, and there is no obligation to sign up or make a purchase through the site for their vote to count. 
Please vote for us to help us continue supporting the Bath and North East Somerset community in these difficult times – every vote counts and it is completely free! The poll will run from the 1st August until the 31st August. To vote and to find out more, head over to the My Favourite Voucher Codes website!
Posted on: 2nd August 2021