Time to Talk Day 2021: The Power of Small
As Covid-19 continues to affect all of our lives, more and more individuals and employers are making positive mental health and wellbeing a priority. However, the stigma around ill mental health remains and it is important that we take steps to break down these barriers and correct the myths around mental ill health, so that everyone has the opportunity to thrive.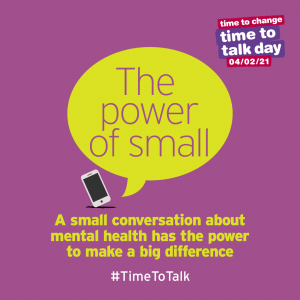 Thursday 4 February 2021 marks "Time to Talk Day" and it provides a national platform for us all to do just this, and to continue conversations about the importance of managing mental health and wellbeing.
This year's "Time to Talk" theme is "the power of small". The idea that a small conversation about mental health has the power to make a big difference to all of our lives. After all, a problem shared is a problem halved, and everyone deserves the opportunity to gain access to mental health support and services. 
Whether you're an individual or a business, consider what could the "power of small" look like to you this "Time to Talk Day".
Here are 3 suggestions from our Bath Mind, Chair of Trustees, and employment and HR lawyer, Pip Galland:
Ask a friend or colleague how they are, and really listen to the answer. It can be that simple. If you're a manager, why not build in time at the start of your calls to really check in on your colleagues. Even if the conversation is hard, it's important to listen;
Don't be afraid to share your own story, or the tips that you use to stay mentally well. In order to address the stigma, we need to share how mental health and wellbeing can be managed effectively. For employers, these messages should come from your leadership team, managers, or your mental health first aiders. This is a great way to demonstrate a supportive workplace culture.
Take the time to spot the signs of mental ill health in your loved ones and colleagues. Responding to the changes that you have seen in others can be an important way to start conversations about mental health and wellbeing. Managers should be trained on the potential signs of poor well-being and mental health, as well as on how to handle a disclosure of a mental health condition. Mental health first aid courses can equip you with the skills to handle this confidently.
If you would like to learn more about how to manage mental health and wellbeing, or how to continue conversations in your organisation about mental health, please contact Head of Business Development Hannah on [email protected]  
For more information on Time to Change and the 2021 Time to To Talk Day's virtual festival, head to their website.
Posted on: 3rd February 2021