From Volunteering to Knitting: Sandra's Story
Volunteering for Bath Mind – Sandra's Story
I have experienced depression all my life from the age of 5 years.  I only knew what the despondency and anxiety was called when I got to 13. That being the case, I am very pleased to support the work of Bath Mind, especially during the COVID-19 lockdowns and restrictions and support for mental health. I became a volunteer when a friend of ours told me about his work as a co-ordinator for the Bath Mind photography group and how worthwhile he found it helping others. I thought I would just donate money when I had spare pocket money.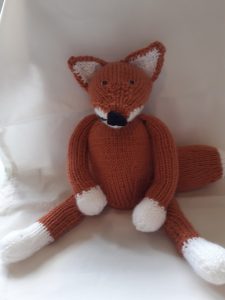 Around Christmas just gone I thought I would knit a little cairn terrier from a kit which I found on line, for my neighbour who has a little cairn terrier pet. My depression caused the usual lethargy so I didn't get around to making it for her until her birthday in February. Her delight with the finished product and my enjoyment of doing it – it was such fun to do – made me realise that it would be lovely to knit other animals and this time put them on sale for charity. 
The most obvious charity for me was Bath Mind. So I set myself a target to do so many toys in so many months. I have achieved my target and have lots of others in the planning stage.  The current toys can be found on Etsy KnitToysCharityBath. I would much appreciate it if you could spread the word to friends who may have children or grandchildren. I have different sizes from huge pandas to little rabbits with lots of reasonable price tags. Do look out for future postings of new toys – Of course commissions are always welcome.
Do be assured that whenever you buy from our Etsy shop the whole amount is immediately then transferred to the Bath Mind donation page as our contribution to their work.
A huge thank you to Sandra for sharing your experience with mental health so openly and honestly. From volunteering to fundraising – we are so grateful for all that you do for Bath Mind!
Posted on: 7th June 2021