The Bath 7 Day Turbo Challenge for MHAW 2020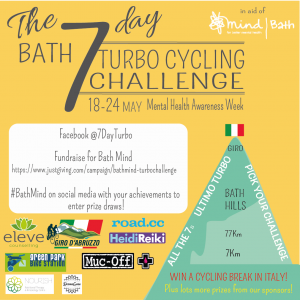 A group of local businesses and supporters have come together to bring you:
The Bath 7 Day Turbo Challenge
, in aid of Bath Mind.
From 18-24th May, Mental Health Awareness Week, this cycling at home challenge is for you either as a solo rider or make a team with your family and friends.
For this challenge you'll need an indoor bike/turbo trainer.
How to get started
Make sure you've liked The Bath 7 Day Turbo Cycling Challenge on facebook for challenge updates
Sign up by creating your fundraising page at www. justgiving.com/campaign/bathmind-turbochallenge

Start your chosen challenge Monday, and tag #BathMind in your facebook posts to let us know how you're getting on and to be in with the chance of winning some incredible prizes ?
Turbo Trainer Challenges:

Challenge 1. ALL THE 7s (for example, a challenge of 7Km, 77Km, 777Km)
Challenge 2. THE ULTIMO TURBO – Climb the 7 Hills of Bath (Bathwick, Widcombe, Wellsway, Bannerdown, Lansdown, Ralph Allen, North Road)
Challenge 3. CONQUER 7 HILLS OF THE GIRO D'ITALIA (Finestre, Agnello, Blockhaus, Imperatore, Gavia, Motirolo)
Be sure to like the event facebook page and tag #BathMind in any of your posts to be in for a chance on winning the challenge prizes!
This challenge has been brought to you by a members of the local community and our supporters Eleve Counselling, Road.cc, and Giro D'Abruzzo to create an event in aid of Bath Mind. 
For full details on the challenge and to sign up for your solo or team page…
Posted on: 14th May 2020