Stress Awareness Month 2021
April 2021 marks this year's Stress Awareness Month, after a year where 65% of people have reported feeling more stressed than usual, it's more important than ever to be talking about stress and ways to alleviate it.
Stress is the body's natural reaction to danger and pressure, which could be deadlines, big life changes, relationships and trauma. Stress itself isn't a mental health condition, but continuous stress can lead to mental health diagnoses, and even contribute to physical health problems.
When you feel stressed, your body releases stress hormones such as cortisol and adrenaline which cause some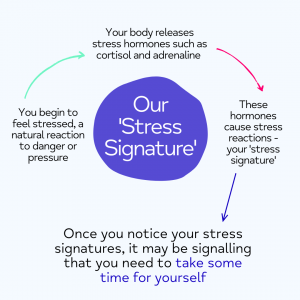 of the familiar stress reactions…
Nausea and indigestion
Poor sleep
Irritability
Withdrawing from social situations
Procrastination
Changes to eating habits
Overworking
These could all be referred to as your 'stress signature'. Once you notice your stress signatures coming up, it may be signalling that you need to take some time for yourself.
What can alleviate stress?
Stress can sometimes be compared to a container, which holds all of the different stresses (big and small) in your life. Your stress container can overfill, which can lead to overwhelm and burnout. Doing activities that you enjoy and taking time out can act as a 'tap' to relieve some of the stress in your container. Mental Health First Aid have an excellent interactive Stress Container resource here, which you can use to understand what is causing stress in your life.
Here at Bath Mind we've compiled a list of top tips to help empty your stress container: 
Breathing techniques, such as 345 breathing
Phone a friend or family member – talking about your stress can take pressure off
Movement – moving your body can complete the stress cycle and release some of the stress hormones from your body. Yoga, running, walking or team sports are great ways to move! Check out our Physical Wellbeing page for some inspiration and ideas.
Practising mindfulness – Insight Timer is one of our favourite Mindfulness Apps for guided meditation
Be creative – this is different for everyone, but this could be crochet, painting or cooking!
Getting absorbed in a book
Spending time outdoors and in nature, focussing on what you can see, hear, taste, smell and touch
We have free resources on our Wellbeing Activities page for all to access to give you some self-care tips. If you are experiencing stress, our evening phone line, Breathing Space, is also open every evening, 365 days a year to offer a calm, non clinical space. 
Let us know on social media what your favourite stress reducing tips are!
Posted on: 12th April 2021