Be Kind to Yourself for World Mental Health Day
Bath Mind is celebrating World Mental Health Day! 
From the beginning of October Bath Mind encourages everyone to consider their own mental health by being kind to ourselves and to others for World Mental Health Day….and beyond! We have worked with artist Ali Brown and illustrator Sam Church to create beautiful Kindness Art Exhibitions throughout shop windows of Bath to bring to life the words,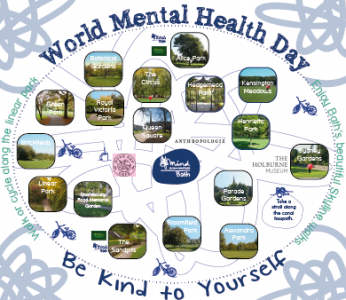 themes and thoughts collected from young people & community settings over the past two years.
Workshops exploring mental wellbeing and the ripple effects of kindness have resulted in a body of work, resulting in a 'Manifesto for Compassion' which we want to share and celebrate with you. Please explore the theme of kindness in:
Anthropologie
Good Day Cafe
Mind Charity Shop
The Holburne Museum
We have also created a map of the beautiful green spaces we are lucky enough to have in Bath, where you can find suggestions to take a 'mindful moment' in one or more of our parks and gardens. Now more than ever it is important to take some time for yourself and your mental health!
To find out more, to download our 'Wellbeing Map of Bath' and 'Be Kind to Yourself Kit', and to make a donation, please visit our World Mental Health Day page here: https://www.bathmind.org.uk/get-involved/world-mental-health-day-2020/
If you have any other queries or would like any more information please contact Hannah at [email protected]
Posted on: 30th September 2020